LOOK AROUND
- Message Board -

I hope you enjoy the following feature as much as I.
Now you can invite other L

K AROUND visitors to help you
solve problems / share opinions by posting your questions on the message board.
Of course, you may participate in an aid or comment by making a reply;
and if you would rather simply read what others have to say, that's okay, too!

... ...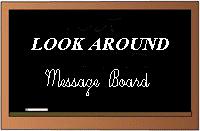 LOOK AROUND Message Board

This interactive service is moderated - your thoughts should be directed for an all-age audience.
Acceptable entries are posted within one week of submittance
and enjoy an exposure period of up to 5 weeks ... check daily for responses.
Commercial advertisements and money-making / MLM type themes are restricted.
Thanks for your understanding and cooperation - have fun! Phil

Thank You! ... for visiting L

K AROUND - you're always welcome.

** We can put your message on the Web **
please e-mail philviger@bigfoot.com
or call (203) 235-0528

[ awards ] |:| [ bookmarks ] |:| [ cartoons ] |:| [ find me ] |:| [ guest book ]
[ link to us ] |:| [ Meriden, Connecticut ] |:| [ message board ]
[ mind your Ps and Qs ] |:| [ name these tunes ] |:| [ neighbors ]
[ search engines ] |:| [ surprise sites ] |:| [ swell ] |:| [ virtual highways ]

updated December 12, 1999
created August 1, 1997
http://www.lookaround123.com/lamssgbd.htm

110397:

052398:

121299: