LOOK AROUND
Meriden, CT
- photo of the month(s) -

Here's your opportunity to truly envision the special places and scenes
located in my home town ... the Silver City of the Nutmeg / Constitution state.
The following pictures appeared as part of my special monthly on-line project.
You may also view the current photo of the month now presented in a unique spotlight.
Please remember to return to L

K AROUND for more exciting features. Phil

... ...



- March 1999 -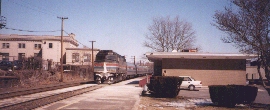 An Amtrak passenger train arrives at the Meriden State Street Train Station.
This location is part of the New York/New Haven to Hartford/Springfield connection.
Conrail freight service also travels these north/south rails. The tracks cut through the
downtown area and act as the city's east/west (and zip code) dividing boundary identifiers.
The building to the left of the engine above is Meriden's Colony Street main post office.





- April 1999 -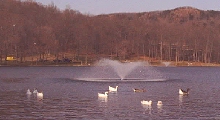 Hubbard Park is Meriden's major relaxation and recreational attraction.
Located on the city's west side, local residents and visitors from all over
may enjoy family picnics, bandshell entertainment and spectacular views!
Certain restrictions apply for fishing, swimming and winter activities.
Each April, a special Daffodil Festival is held here featuring several events.





- May 1999 -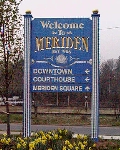 Travelers entering the city of Meriden via the major highway exits or
main community border roadways are now warmly welcomed by new
large blue and white post signs indicating landmark direction routes.
The above view is the base of the I-691 west downtown Meriden exit ramp.





- June 1999 -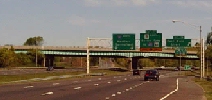 Major highways such as I-91, I-691, routes 15 and 66 all merge together at
Meriden based in the center of the state - the 'Crossroads of Connecticut'!
Above, motorists traveling north on Interstate 91 must quickly decide if
they wish to get off the East Main Street exit or continue onward towards
Hartford/Springfield, or soon bear left for Waterbury or right to Middletown.





- July 1999 -





Castle Craig is the towering icon of Meriden, Connecticut.
The symbol is often used as a promotional logo identity for the city;
and some businesses incorporate part of their name because of it.
Thousands of visitors to Hubbard Park journey up East Peak Mountain
to climb this famous landmark and appreciate the scenic views abound
(On a clear day, you can see Long Island Sound and Springfield/Berkshires)





- August 1999 -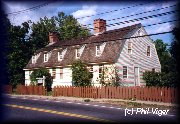 Built in 1711, the Solomon Goffe House is the oldest house in my hometown.
Located at 667 North Colony Street, Meriden (take Broad St exit off I-691)
the public is welcomed the first Sunday of each month from 1:30 - 4:30 p.m.
to tour today's living history museum. Volunteers provide a social atmosphere
dressing in 18th century wardrobe and partaking in skits portraying yesteryear!





- September 1999 -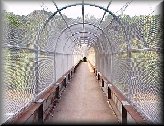 The CT State D.O.T. constructed this walk bridge over I-691
near the Meriden / Southington line to enable pedestrian traffic
to safely cross over from West Main Street / Hubbard Park trails.
Hikers using the once actual road paths can venture to Castle Craig,
West Peak Mountain (towers), Halfway House, Merimere Reservoir plus
further to Southington, Berlin and even connect to the Metacomet Trails.





- October 1999 -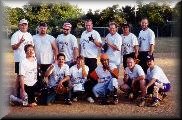 1999 Meriden Amateur Softball Association Division D Champions
prove local sports are more than just fun - they're competitive!
MASA is one of many various league activities available for area
adult / youth residents to participate in throughout the year.





- November 1999 -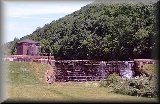 Considered by many as Meriden's hidden gem,
the Dr. Francis Giuffrida Park located at
800 Westfield Road (northeast end of city)
features picnic and play areas, a reservoir,
Lamentation Mountain + Chauncey Peak trails.





- December 1999 -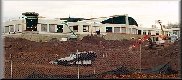 Meriden is witnessing a lot of new construction lately,
and it is not only in the residential / commercial markets.
Thomas Edison, an interdistrict magnet middle school, shall be
opening its doors to 800 sixth, seventh and eighth graders from
Meriden, Middlefield, Middletown, Durham and Madison fall 2001.





- January 2000 -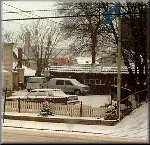 Finally, on January 13, 2000 Meriden receives its first
snow accumulation (2 inches) for the 1999-2000 season!
Although this Sherman Avenue business/home owner had
already begun to remove his Christmas yard decorations,
a manger, Santa sleigh and some seasonal ornaments were
remaining on display so as to complete the wintry scene.





- February 2000 -





Meriden residents and neighbors hadn't been able to
ice skate at Hubbard Park's Mirror Lake since the
1995-96 winter season, but the arrival of the new
year 2000 changed that for the athletics' delight!
At times, you can even get some free hot chocolate
at the skate house and/or use your blades at night.






- March 2000 -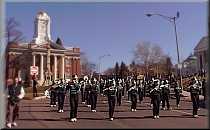 Each year, Meriden's residents have the opportunity to become
proud supporters to area organizations participating in any of
three annual local parades. Here, Maloney High School Band
members wear their coincidental 'green' uniform as they perform
in the 2000 St. Patrick's Day Parade passing by City Hall!


* Special *
Take a unique
L

K AROUND
the digital gallery for
- March 18, 2000 -




- April 2000 -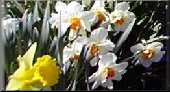 Explore the city in April / May and you'll discover Hubbard Park
isn't the only place to LOOK AROUND a proud daffodil display.
Residents and businesses throughout Meriden will conquer the green thumb
challenge resulting with flower beds such as a local nursing home's above!



- May 2000 -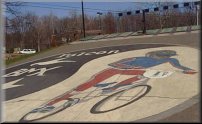 Each Saturday during May through August, Meriden's Falcon Field
becomes the center of attention for BMX racers licensed by the
National Bicycle League. The Falcon BMX track is just one of four
state locations area members from as young as 3 to 62 and older
gather to compete and/or simply just have fun and entertain!



- June 2000 -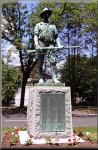 As you travel along Route 5 / Broad Street,
you'll soon come upon a stretch in Meriden
where the center green is monumental grounds.
The Spanish American War Memorial above is
just one example of how the city recognizes
its residents who have fought for our country!



- July 2000 -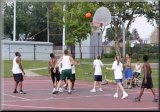 The in-ground public pool at Ceppa Field
has been closed for years now; however,
you can still find Meriden's youth and
area friends burn their summer energy
with a challenging game of basketball.
Other audience attracting activities here
include football, baseball and even boxing!



- August 2000 -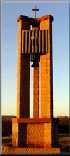 The sounds of Angelus can be heard
three times daily (9a,12n,6p) and
before religious services from
Holy Angels' electronic bell tower
atop Diamond Hill in the city's
'Village' section (South Meriden).




- September 2000 -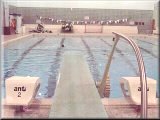 Residents of the Silver City are able to enjoy
year round swimming in local public pools.
From mid September thru the following June,
Maloney High School's indoor pool (above) is
available during special hours; while swimmers use
Hubbard Park's outdoor facilities in summer months!



- October 2000 -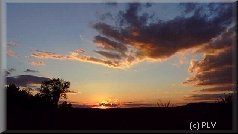 Incorporated as a city in 1867, today's population of nearly
60,000 residents occupy approximately 23.7 square miles of
central Connecticut landscape. Mother nature often shares
her resourceful gifts resulting in interesting displays such
as a spectacular fall sunset on Meriden's western horizon!
(The mountainous notch above the © symbol is East Peak)



- November 2000 -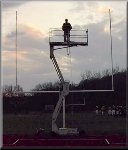 Each fall, students from Meriden's two public high schools,
Platt (Panthers) and Maloney (Spartans) are often seen at
competitive football games while challenging other area town
schools, and on Thanksgiving, matched between each other
for the yearly Stoddard Bowl at Ceppa Field. Above, is a
silhouette of a fellow teenager video taping late practice.



- December 2000 -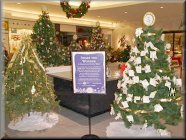 Shoppers at the Westfield Shoppingtown Meriden
(formerly known as the Meriden Square Mall)
can 'Share the Wonder' of the holiday spirit.
Non-profit organizations have decorated trees
bearing name tags of area children in need.
Donations are also accepted from those wishing
to have purchases gift wrapped by volunteers!



- January 2001 -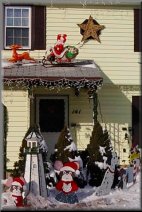 Each year, the Meriden Parks and Recreation Department
conducts a Winter House Decorating Contest whereby
local residents can register to have their
seasonal displays judged for a top spot
ranking position as the one above did!



- February 2001 -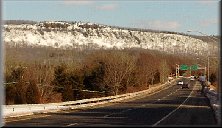 Motorists travelling along I-691 through Meriden
enjoy scenic views of mountainous landscapes
surrounding the northern sections of the city.
East bound traffic approaches Mount Higby (above),
while East Peak starts/completes the western ridge!



- March 2001 -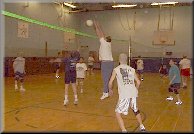 While it's cold and often snowing outside,
local adults can be found keeping in shape
and having fun indoors each winter playing
volleyball at Meriden's Lincoln Middle School!



- April 2001 -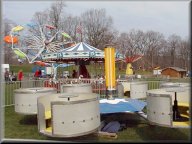 There are more than flowers blooming that
signify the arrival of spring each year.
Meriden residents welcome with glee
colorful carnival displays that begin
to appear throughout the city / season!



- May 2001 -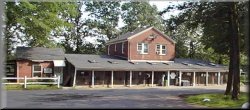 Located at 540 Oregon Road, the Meriden Humane Society
invites you to "Adopt A Friend" - or lend a helping hand.
This 'no-kill' shelter has been in existence since the
late 1800's and works with many other rescue groups
including the local dog pound on the other side of town.
Call (203) 238-3650 for volunteer / donation information!



- June 2001 -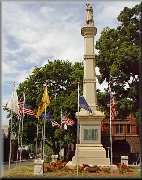 At the intersection of East Main, Liberty and Catlin Streets,
(in front of Meriden City Hall / across BOE building above),
a collection of the federal, state and historical flags -
Bennington, Betsy Ross, Bunker Hill, Continental, Fort Moultrie,
Gadsden, Grand Union, Star Spangled Banner, and Taunton
- surround the city's Civil War monument as an annual summer
display of pride and honor to all whom have served our country!



- July 2001 -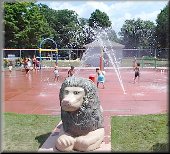 The Meriden Lions Club Water Park
is the latest addition to the city's
'City Park' located on the corner of
Franklin Street and Park Avenue.
Created mainly for the children,
even adults attempt to keep cool!



- August 2001 -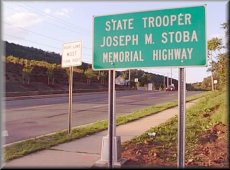 A section of the Chamberlain Highway (Route 71)
from I-691 in Meriden to the Berlin town line
is now recognized/dedicated in honor of slain
State Police Trooper Joseph M. Stoba, Jr. -
killed in a 1962 line of duty Portland matter.
Stoba was a Meriden resident and had been
assigned to the Troop K barracks in Colchester.



- September 2001 -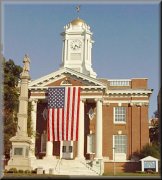 Government officials have a special American Flag
drape the main entrance to Meriden's City Hall
in memory of the victims and their families
impacted by the September 11, 2001 incidents at
the World Trade Center, Pentagon and Pennsylvania!



- October 2001 -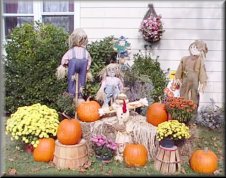 Residents of this home located on the corner of
Spring and Summer Streets in Meriden, CT
create a colorful display fitting for the fall season!

L

K AROUND
2001 Halloween House Decorations

- November 2001 -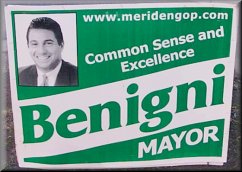 Political yard signs could be found throughout the
community during the election season. Challenger
Mark D. Benigni, once a City Councilor as a Democrat,
became an Independent candidate later endorsed by
the Republican Town Committee / Party; and ultimately
defeated four-term incumbent Joseph J. Marinan, Jr.
in the 'Mayor of Meriden' November 6, 2001 contest!



- December 2001 -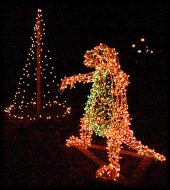 'Tis the season where you may hear that
"Santa Claus is coming to ...", but those
travelling along West Main Street in the
center of Meriden, CT will discover that
seasonally lit 'Barney' and some of his
friends have already arrived ... (down)town!



- January 2002 -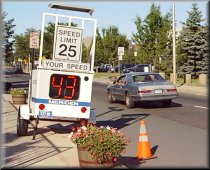 Whatever the weather, making sure you drive
through the city streets safely is a task the
Meriden Police Department takes seriously.
Radar trailers are routinely set-up at various
locations enabling motorists to compare their
traveling speed to that which is the legal limit!



- February 2002 -



Atop the winding, hilly driveway of 285 Preston Avenue
in Meriden, you'll discover the secluded location of the
Connecticut Police Academy. The center provides recruit
and in-service training plus specialized and remedial
programs for state troopers and municipal officers!



- March 2002 -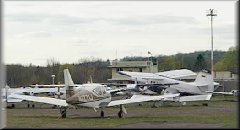 Central Connecticut's transportation services are
enhanced by the Meriden-Markham Municipal Airport
located at 213 Evansville Avenue in South Meriden.
Although there is no traffic tower, small planes and
corporate jets arrive/depart on a daily basis at MMK!



- April 2002 -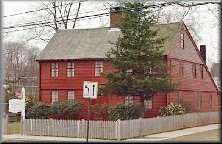 In 1760, this red saltbox colonial rested on west-side farm
land in Meriden, CT and was the residence / preaching center
of Tory Minister Moses Andrews. In 1927, the city acquired
the property and soon made the 'home' kindergarten for
Benjamin Franklin School; it became a day car center during
World War II. Andrews' Homestead at 424 West Main Street was
restored in the 1950's and is now a museum for local artifacts plus
Revolutionary War items furnished by the Meriden Historical Society!



- May 2002 -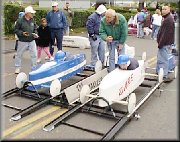 "On the count of three" ... 'one' day each spring,
you may discover 'two' youngsters at a time race their
specially self-built kit cars side-by-side on a closed-off
city street. Dozens 9-16 years of age from Meriden and
surrounding communities compete for the top 'three' slots
in the challenging yet rewarding local Soap Box Derby!



- June 2002 -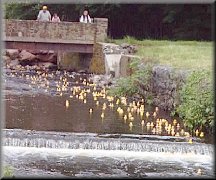 quack, quack, quack; quack, quack; quack;
... and they're off - rubber ducks they are.
Each June, the Meriden Lions Club conducts
a yearly Duck Race at Brookside Park to
raise funds for local charitable projects.
Spectators cheer on the nearly two thousand
numbered feathered mates as they float down
the 1/8 of a mile stretch of Harbor Brook!



- July 2002 -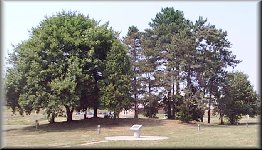 The tall trees surrounding this Meriden spot between
CT's State Police Complex on Colony Street and
MidState Medical Center on Lewis Avenue
were planted in 1947 as a memorial to mark
the resting place of 30 to 40 children who once
lived at the CT School For Boys - a reform school
for the delinquent, orphaned or abandoned from
the early 1800's until 1973. The CT General Assembly
designated the graveyard an 'Ancient Burial Ground' in 1986.



- August 2002 -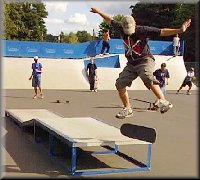 Since 1999, nearly a dozen local children met monthly with
local Parks and Rec representatives creating and finalizing
proposals for a new skating facility to be used by anyone.
By Memorial Day 2002, Meriden Skatepark became a reality.
70x140 feet of fenced-in area that once was a parking lot
for students at Platt High School on Coe Avenue now consists
of portable quarter pipes, pyramid / fun boxes and grind rails.



- September 2002 -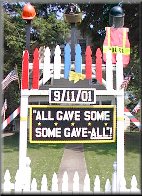 The residents of this Chamberlain Avenue home
decorated their property entryway with honor
in remembrance that on September 11, 2001
All Gave Some while Some Gave All!



- October 2002 -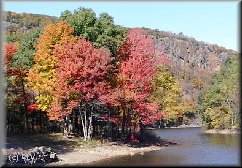 Sure, you'll enjoy some spectacular views from atop
Castle Craig, Meriden; but on your way up and down
the Hanging Hills, travel slowly on Reservoir Avenue
and Percival Park Road so you may fully appreciate
the fall colors / scenery found along the mountain side,
its trails, Mine(r's) Island and Merimere Reservoir!



- November 2002 -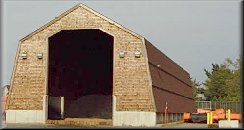 The Connecticut Department of Transportation has a
maintenance facility at 239 Miller Avenue, Meriden
more visibily seen by motorists traveling along
Route 15 (Wilbur Cross Parkway). On the grounds
are fuel tanks, repair garages, trucks and plows
plus storage areas for salt and sand used on the
central CT state roadways during winter storms!



- December 2002 -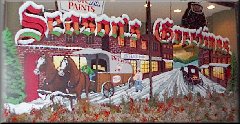 The seasonal spirit shines all over the city of Meriden
- whether it be in the present with light decorations
found on residential homes, front lawns and parks,
or the past as reflected in the above hand drawn
and then painted window dressing by Carmine Cermola
of Wethersfield who was hired by a downtown merchant.



- January 2003 -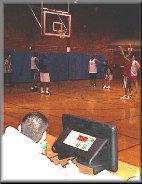 The Silver City may not be the home of pro/college sports;
however, Central Connecticut does have great challenging
indoor athletic activities during the winter months. Over a
dozen teams are part of Meriden Mens' Basketball League
which utilizes official referees and time / score keepers.
There is no cost to local spectators wishing to cheer and
encourage their favorite players competing at local facilities!



- February 2003 -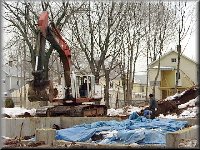 Mother Earth's grounds may be frozen and often covered
with near record snow fall, but that doesn't seem to slow
the pace of new housing construction in the city of Meriden.
Contractors brave the wintry elements as they work on a
foundation for a rising Center Street duplex structure!



- March 2003 -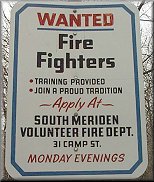 As you cross over the Main Street Quinnipiac River bridge,
you'll notice a unique posting for Volunteer Fire Fighters to
serve the South Meriden business and residential community.
Recognized as the 'life-line to the Village' since 1908, these
non-paid professionals are trained and state certified to become
local responders for medical, fire and motor vehicle accident calls.



- April 2003 -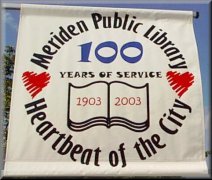 Once located at the corner of East Main and Pleasant Streets
in a building known as the Curtis Memorial Library, today's
Meriden Public Library serves the city of Meriden from a
more modern building at 105 Miller Street. Banners around
the facilities proudly pronounce the 1903-2003 centennial
of the local services which now include branch locations
at elementary schools, and the Boys and Girls Club!



- May 2003 -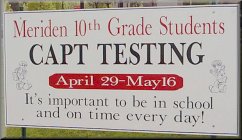 As an attempt to promote the awareness of educational goals
and encourage the local student population to participate
in special testing mandated by state law, the Meriden Board
of Education has designed unique billboards reminding the 10th
grade students (and their parents/guardians) that the C.A.P.T.
(Connecticut Academic Performance Test) is once again being
conducted. Each spring, since 1994, high school sophomores are
tasked with interdisciplinary, math, science, and literature skills!



- June 2003 -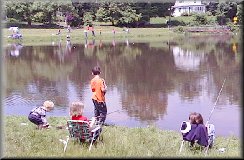 Area youths 15 years old and younger are able to compete
in the Meriden Rod and Gun Club's fishing derby. This
has been a yearly event for decades - originally conducted
at Hubbard Park's Mirror Lake - and is most recently held
each spring at Baldwin Pond (above). The free-to-enter
contest enables participants to catch trout, sun fish, bull heads,
and even bass. Derby winners choose from a great selection of
assorted toys and bike prizes offered by club members/donators.



- July 2003 -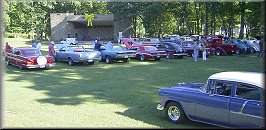 In 1998, the Meriden Parks and Recreation staff decided to
complement a live orchestra's 50's / 60's 'Sounds of Summer'
performance at Hubbard Park by inviting and allowing owners of
convertibles to display their pride and joy as part of the entertainment.
The response was such a surprising success, the city has since decided
to conduct annual summer car shows entitled 'Cruise Night' near
the band shell where, these days, a live DJ spins the yester-year tunes.
Automobile enthusiasts from all over Connecticut seem to enjoy participating
in the unique setting enabling others to freely re-discover history in motion!



* Special *
Take a unique
L

K AROUND
the digital gallery for
- April 24, 1999 -

---


Virtual Highways

A unique way to travel through central CT
---
be sure to
LOOK AROUND
for special upcoming events


Thank You! ... for visiting L

K AROUND - you're always welcome.

** We can put your message on the Web **
please e-mail philviger@bigfoot.com
or call (203) 235-0528

[ awards ] |:| [ bookmarks ] |:| [ cartoons ] |:| [ find me ] |:| [ guest book ]
[ link to us ] |:| [ Meriden, Connecticut ] |:| [ message board ]
[ mind your Ps and Qs ] |:| [ name these tunes ] |:| [ neighbors ]
[ search engines ] |:| [ surprise sites ] |:| [ swell ] |:| [ virtual highways ]

All photos Copyright © 1999-2003 Philip L. Viger
updated August 26, 2003
created February 5, 2000
http://www.lookaround123.com/lamdnpic.htm

020500:

013101:

013102:

012803: